Iron River, Wisconsin ~ "Where everyone knows your name"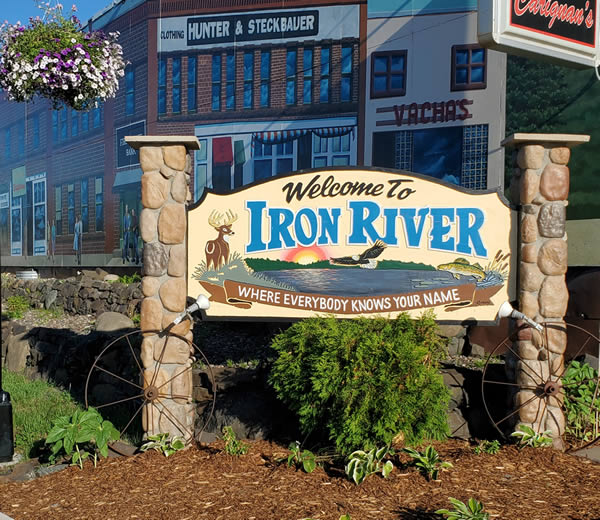 Iron River is a small, friendly community of northwestern Wisconsin, named for the Iron River that starts in the town and flows into Lake Superior. In the late 19th and early 20th century, Iron River was part of the logging boom. Trains made several trips a day between Superior and Hurley, hauling logs to markets and supplying transportation to workers. The logging industry is still a major part of the area's economy, but the mills are long gone. The railroad tracks now are replaced by The Tri-County Recreational Corridor (Douglas, Bayfield and Ashland Counties) and runs from Superior to Ashland allowing year-round activities for ATV's, snowmobiles, bicycling and marathons. Additionally, well-planned groomed trails throughout the region provide recreation for residents and attracts many vacationers as well.
The Ojibwa Chippewa discovered the area and considered the unusual reddish water of the Iron River as having great medicinal value.
Early on Iron River became known as the "Blueberry Capital of the World" for the abundance of wild blueberries and visitors would arrive on the trains to pick the fruit. The annual Lion's Blueberry Festival (the last full weekend of July) is a celebration of this bountiful, delicious fruit. Moon Lake Park is turned into a midway of rides, games, food, and merchandise vendors.
Diversity marks the forests with its mixture of hardwoods and evergreens that provide a home for an incredible array of wildlife...trophy whitetail, the state's largest population of black bear, fox (red, gray & cross), wolves, cougar, fisher, martin, eagle, hawks of all kinds, falcons, loons, ducks, geese, swans, hummingbirds, cardinals, sandhill cranes, orioles, grosbeaks, finches and so many more. The area is on the migratory path for many bird species. The numerous lakes, rivers and streams provide fishing opportunities both in open water and through the winter ice. Hunters can find deer, bear and turkeys among others.